Intermountain Healthcare, the southwestern health system comprising 24 hospitals and over 200 clinics, has codified health equity into its mission statement, the organization has announced.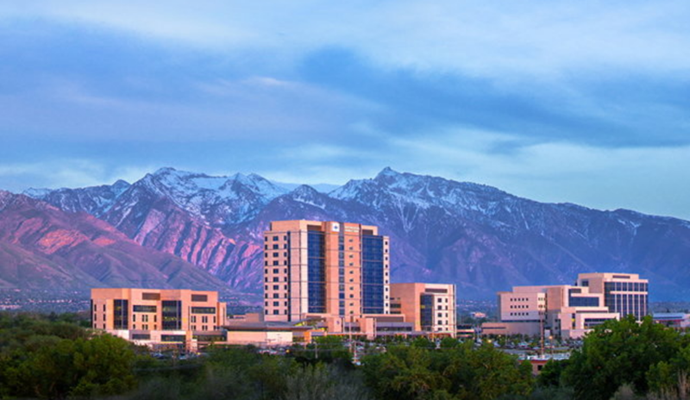 Specifically, the health system giant that also encompasses a healthcare payer plan, has outlined five key priorities to boost diversity, inclusion, and health equity in its mission statement. This announcement comes alongside a national racial reckoning that is sparking change inside and outside of medicine.
"Hate will never have a place in healing," Marc Harrison, MD, Intermountain's president and CEO, said in a video statement regarding the healthcare organization's equity and inclusion efforts. "Together, we can assure that our members, our caregivers, our patients, all are treated with dignity and respect."
"I'd like us to commit to eliminating disparities for our caregivers and our patients," Harrison continued. "It's imperative that everyone, regardless of what they look like, what they're background is, that they achieve the same excellent outcomes that Intermountain regularly delivers."
Leading those five key priorities is an acknowledgment of health equity as a foundational standard of care. Just as Intermountain Healthcare has long strived for a good patient experience, clinical quality, and patient safety, it has doubled down on its commitment to health equity, as well.
The health system said this was an important part of its acknowledgment of long-running racial health disparities in the medical establishment.
Second, Intermountain said it would hire a chief equity officer to lead and manage its forthcoming work on health equity. This is a part of the health system's efforts to drive accountability, it said.
The chief equity officer, joined by a senior medical director of equity & inclusion and a senior nursing director of equity & inclusion, will liaise with current hospital executives about Intermountain's mission going forward to better serve its community.
Third, Intermountain said it plans to hire an equity advocate. This individual will serve as a patient advocate of sorts, and mediate potential issues between caregiver and patient. Again, this role may serve to support Intermountain's efforts for accountability.
Fourth, Intermountain said it will make a financial commitment to health equity specifically through scholarships, tuition reimbursement, fellowship stipends, and impact investments.
Finally, Intermountain said it was leaning on community health partnerships to address racism in the medical establishment and in the community. This comes as the health system recognizes racism as a public health crisis, as it affects housing access, career opportunities, and healthcare access.
Health equity and community health are key areas where Intermountain has previously dedicated energy. As an anchor institution in the community, leadership at the health system have long acknowledged its role in support patient health inside and outside of the hospital or clinic.
"In any community where Intermountain operates a hospital, we are typically one of the largest private employers and are a big driver in the economy as well," Mikelle Moore, a senior vice president and the chief community health officer at Intermountain Healthcare, told PatientEngagementHIT at the end of 2019. "When you look at a state or county's economy, a hospital is typically a big driver of employment and overall economic forces within a community."
At the time, Moore was referencing Intermountain's role as a jobs creator, and the health system's efforts to eliminate student debt and create educational, and therefore career, opportunities for its lower-wage workers. A tuition reimbursement program might help someone in environmental or food services obtain a degree in health informatics, Moore said.
This latest announcement accentuates Intermountain's responsibility as an anchor institution, but instead of focusing on jobs creation and upward mobility, the health system is looking to combatting health inequities and structural racism in healthcare.
"We know that racial disparities lead to poorer outcomes. We know that race is an independent social determinant of health," Harrison said in his video statement. "We will work in the same way we've worked on other social determinants of health at Intermountain and with partner organizations across our regions."